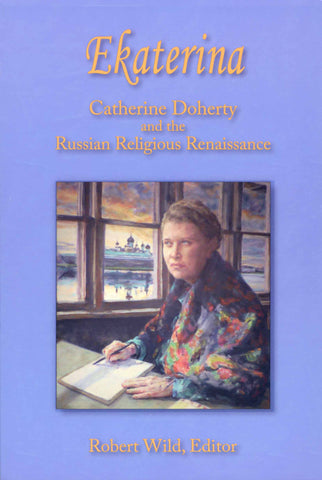 Ekaterina: Catherine Doherty and the Russian Religious Renaissance
Ekaterina proposes Catherine Doherty as one whose life and work brings a significant contribution to the development of the Russian spirituality from the Russian diaspora. In the study of the Russian Religious Renaissance, her unique achievement is manifestly seen in the life of the community she founded.
Ekaterina—Catherine Kolyschkine de Hueck Doherty—was born into the wealth of the Russian nobility. She fled the Bolshevik Revolution and experienced enough adventure, heartbreak and joy to fill several lifetimes. She describes herself simply as "a fool in love with Christ" who followed a powerful call to bring her living faith and the treasures of her Russian heritage to a modern culture hungering for truth and love. She worked tirelessly among the urban poor in North America before founding the Madonna House Apostolate in 1947.

The Russian Religious Renaissance refers to some of Russia's best minds and hearts who were expelled from their homeland in 1922 but continued to develop Russian thought outside of Russia, primarily in its Paris center. Although Catherine lived and wrote geographically remote from the members of the Renaissance, her incarnational Russian spirituality, with emphasis on combining elements of both East and West, owes much of its inspirations and expression to the prominent figures of Renaissance.
135 pages, with photographs — Trade Paperback, 5.5″ x 8.25″ — 1st ed., Madonna House Publications, 2021 — ISBN 978-1-77312-007-2
Read more...
---
We Also Recommend
---