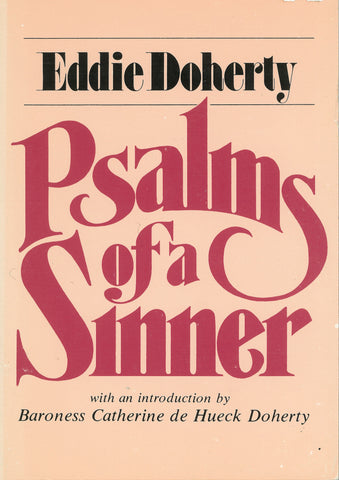 Psalms of a Sinner
Fr. Eddie Doherty's own psalms from the heart are written with childlike wonder and joy of simple faith discovered after years of neglect.  
These personal psalms written by Eddie Doherty bring to life the fascinating world of God's creation, and reveal humankind for what it is, beautiful but flawed. Throughout runs the shining thread of his love and gratitude. He praises God and thanks Him for everything in the universe and appeals to Him for His continued love and for the grace to love Him more. Here is the seeming paradox of a man matured by age and worldly experience and at the same time filled completely with childlike wonder and joy of simple faith discovered after years of neglect.
Mr. Doherty's delightful descriptions of the outdoors, especially the march of the seasons through Combermere, Ontario, the author's home, are full of imagination and humor, and draw us in to seeing things through new eyes...eyes of wonder and awe at the magnificence of God and all He has created.
"The sun was sliding slowly down the western sky, and You were tinting the white and gray clouds crimson and purple and gold. The moon was high in the east. A full moon. The ghost of a moon. The blown dandelion of a moon. If a man could get close enough to it, he could blow it into a million spindrift stars.
The sun slipped out of sight and we watched You mix the colors to mark its exit. You smudged the bright hues with the charcoal You use for night effects. You hovered over the spot like a mother who has just put her child to sleep, and You set the sentinel stars.
I loved You intensely then, like a lonely child who has suddenly found his father. There have been few such moments in my life. Today that intense love came back."
A refreshingly different spiritual reading that will surely make God seem unusually real and close.
About the author Eddie Doherty
262 pages. Also available in French.
EPUB and Mobipocket formats. (Please note — after payment, you will receive an e-mail with a download link for a .zip file containing the eBook in two standard formats: an .epub file and a .mobi file. We are unable to offer technical support for the use of eBooks, so please be sure you know how to install and use the files on your eBook reader before purchasing.) DRM-free.
Read more...
---
We Also Recommend
---