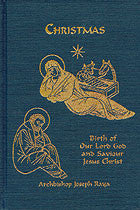 Christmas: Birth of Our Lord God and Saviour Jesus Christ and His Private Life
The events of Christ's birth and his early private life as we encounter them in the scriptures, gaze upon their icons, and study the history of their celebration in the liturgy.
When God became Man — the Eastern Church's perspective, explained by Archbishop Joseph Raya
Think you know everything there is to know about Christmas? In Christmas: Birth of Our Lord God and Saviour, Jesus Christ and His Private Life, Archbishop Joseph Raya delves deeply into the traditions and spirituality of the Eastern Church in order to open up dimensions of this familiar Feast that even the most fervent celebrator of the Incarnation of God in Christ has probably overlooked.
Archbishop Joseph begins at the very beginning, with an in-depth look at how God reveals Himself to man, detailing three "Bibles" that disclose something of His nature and purposes — the third being Jesus Himself, become man through the Holy Spirit and the Virgin Mary. He explores the human face of God through iconography (particularly the icons of the Face of Christ and that of the Nativity) and the Gospel stories of Jesus' birth; elucidates the place of Christmas in God's plan for the redemption of the universe; celebrates God's pre-Incarnation "alliances" with Noah, Abraham, and Moses; and briefly surveys the development of the great Feast of Christmas in the life of the Church.
That's not all. Archbishop Joseph includes detailed explanations of the Jesus Prayer, which animates so much of Byzantine spirituality, and of the Feast of the Presentation of Jesus — the first public event in the life of Christ. Thought-provoking, exhaustively researched and imbued with a fervent love for God, Christmas is a perfect companion to your celebrations of Christ's Incarnation.
About the author Archbishop Joseph Raya
140 pages — Hardcover, 6″ x 9.25″ — Madonna House Publications, 1997 — ISBN 978-0-921440-45-1
Read more...
---
We Also Recommend
---