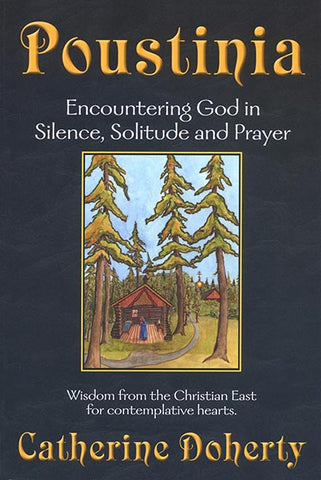 Poustinia: Encountering God in Silence, Solitude and Prayer
Catherine Doherty's critically-acclaimed and timeless best-seller Poustinia is the modern spiritual classic for those seeking the open heart and listening soul of a silent, prayerful contemplation.
 Also available as AudioBook
Get the set of all six "Madonna House Classics" books at a special price!

Poustinia — The modern spiritual classic for those seeking the open heart and listening soul of a silent contemplation.
Poustinia, a Russian word, means 'desert', a place to meet Christ in silence, solitude and prayer. Catherine Doherty combines her insights into the great spiritual traditions of the Russian Church with her very personal experience of life with Christ.
Men and women who desire communion with God can discover how the poustinia powerfully fulfills their yearning. Readers are invited to leave the noise and harried pace of daily life to enter a place of silence and solitude. Catherine writes from her own experience with refreshing and startling Christian authenticity and a strong personal sense of spiritual authority.
Catherine emphasizes 'poustinia of the heart,' an interiorized poustinia, a silent chamber carried always and everywhere in which to contemplate God within. Learn how our desert can be in the marketplace, in the midst of countless conferences, traffic jams, bus trips—or a hospital ward. Written by one who knows by experience, Poustinia brings consolation with its vision of a personal desert that can bloom in simple, profound prayer.
A timeless best-seller, published in 16 foreign editions around the world, Poustinia won the prestigious French Academy Award. The experience of poustinia has become a worldwide phenomenon following its publicity through this popular book.
Reviews
"Of the many books on prayer that have been published in recent years, this is simply the best." — Richard K. Weber OP
"I believe anyone who starts this book will get caught up in the fascinating style and personality of the author. She is a great Christian who has immersed herself in a long life-time synthesis of the unique Russian spirituality that becomes purified and made extremely applicable for our modern times." — George A. Maloney SJ
"Poustinia is not a book, it is a stream of life. Catherine de Hueck Doherty's words are tried by fire—a vision that has survived forty years—a movement now become a community. She speaks of the inner journey, but she carries it into the Trinity. She speaks of silence, but a silence that is the speech and silence of God. This book will speak richly to all… But perhaps it will touch most deeply the hidden poor and hungry who have no words for the gift that sustains them—the poustinia of the heart, His presence." — Fr. Edward J. Farrell
"Classics are rarer than precious gems, so it is a delight to discover a new one… One finds a refreshing and startling Christian authenticity in Doherty's writing." — Christian Century
"Catherine de Hueck Doherty has the gift of a great and joyous faith and of making life an adventure, a pilgrimage. Her book shows us a new way of growing in the spiritual life. I'm delighted!" — Dorothy Day
 "This is important material for Christians." — AudioFile Magazine
About the author Catherine Doherty
208 pages — 5.5″ x 8.25″ — 4th ed., Madonna House Publications, 2021 — ISBN 978-1-77312-014-0 — Also available in French. For Chinese, Russian, Italian, or Polish order by phone: 1-613-756-3728.
EPUB and Mobipocket formats. (Please note — after payment, you will receive an e-mail with a download link for a .zip file containing the eBook in two standard formats: an .epub file and a .mobi file. We are unable to offer technical support for the use of eBooks, so please be sure you know how to install and use the files on your eBook reader before purchasing.) DRM-free.
Read more...
---
We Also Recommend
---