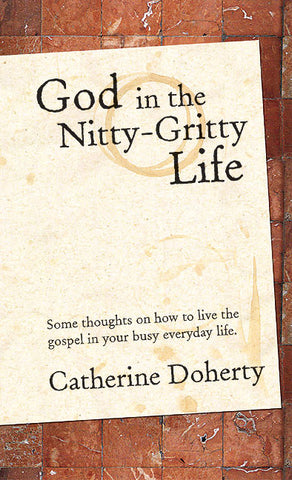 God in the Nitty-Gritty Life
Some thoughts on how to live the gospel in your busy everyday life.
"Catherine Doherty has the gift of a great and joyous faith and of making life an adventure, a pilgrimage!" — Dorothy Day
The short excerpts from Catherine Doherty's writings contained within are meant to be read slowly, one by one—or opened to at random.
Meditate on them, together with the accompanying scripture quotation, and let them open to you a new facet of simple, daily gospel living. Taken as a whole, they will give you an excellent introduction to Catherine Doherty's spirituality.
A sampling of topics evokes the richness and variety of the meditations:
Don't miss the boat!
Being in love
How to keep going
The fruit of monotony
"Come as you are"
Potato peels and other things
Even if they laugh
The touch of Jesus
A new angle on sin
The warmth of God's mercy
Reviews
"The writings of Catherine Doherty help us all to live the gospel 'without compromise.'" — James Cardinal Hickey
"Mrs. Doherty's books are always best sellers and with good reason. Her writing is clear, to the point, so that it is hard to miss what she is saying." — The Crux of Prayer
"Reading Catherine Doherty's writings has always been both a pleasure and an enriching experience." — Spirituality Today
"Catherine Doherty's years of total dedication to the people of God, the crosses she has carried, and the tremendous graces she has received all leave their mark on what she writes, adding new depths now to the perception which has always been hers…. a present-day prophet whose commission is validated by a long life spent in 'living the Gospel without compromise.'" — Sisters Today

About the author Catherine Doherty
80 pages — Trade Paperback, 5.25" x 8.25" — Madonna House Publications, 2002 — ISBN 978-0-921440-82-0
EPUB and Mobipocket formats. (Please note — after payment, you will receive an e-mail with a download link for a .zip file containing the eBook in two standard formats: an .epub file and a .mobi file. We are unable to offer technical support for the use of eBooks, so please be sure you know how to install and use the files on your eBook reader before purchasing.) DRM-free.
Read more...
---
We Also Recommend
---