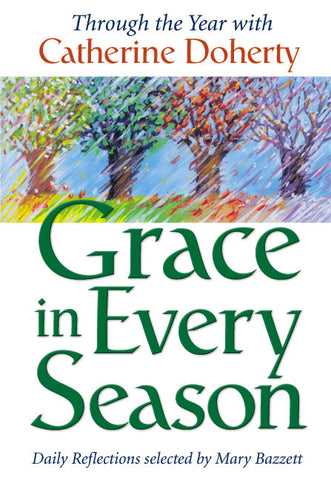 Grace in Every Season: Through the Year with Catherine Doherty
Provides an excellent introduction to the main themes of Catherine Doherty's spirituality and a wide selection of her writings. This seasonal devotional book is arranged for easy daily meditation. Selected by Mary Bazzett
This seasonal devotional features meditations drawn from the down-to-earth and eminently practical writings of Catherine Doherty
Providing daily spiritual guidance, there are deep insights on prayer and spiritual growth as well as homespun words of advice on everyday work and family life. Nostalgic entries even recall Christmas and Easter customs from Catherine's childhood in the Old Russia of the czars.
A sampling of daily topics evokes their richness and variety:
Remedy for Pain: Forgiveness
What Christ asks of Us
What Happens When You Take the Risk
Superficial Communications and Loneliness
The Gospel is Risky Business
A Meditation on Yelling
Carefully compiled by Mary Bazzett, former managing editor of The Catholic Answer, this volume provides an excellent introduction to the main themes of Catherine Doherty's spirituality and a wide selection of her writings that will be of interest to her many spiritual children throughout the year.
Reviews
"I recommend this book to anyone who wishes to follow the Lord Jesus more closely. The writings of Catherine Doherty help us all to live the gospel 'without compromise.' Mary Bazzett has done a great service in arranging Catherine's writings for daily prayer and reflection." — James Cardinal Hickey
"The writings of Catherine Doherty belong in the realm of contemporary classics. With this book of seasonal selections, we have ready-at-hand some of her most memorable reflections on the mysteries of our faith as well as personal accounts of her profound prayer experiences. I heartily recommend it for all Christians." — Susan Muto, author, Pathways to Living
"Because Grace in Every Season lives up to its title, it also makes a wonderful gift for any occasion—Christmas, birthday, graduation, wedding or anniversary." — Larry Holley OSB, The Pecos Benedictine
 About the editor Mary Bazzett
365 pages — Trade Paperback, 5.5″ x 8.25″ — 2nd ed., Madonna House Publications, 2001 — ISBN 978-0-921440-31-4
EPUB and Mobipocket formats. (Please note — after payment, you will receive an e-mail with a download link for a .zip file containing the eBook in two standard formats: an .epub file and a .mobi file. We are unable to offer technical support for the use of eBooks, so please be sure you know how to install and use the files on your eBook reader before purchasing.) DRM-free.
Read more...
---
We Also Recommend
---