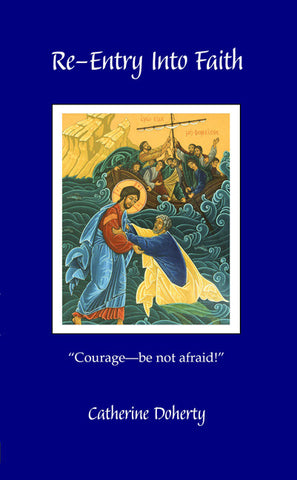 Re-Entry Into Faith
"Courage—Be Not Afraid!"
"Courage—Be Not Afraid!"
In Re-Entry Into Faith, Catherine Doherty communicates a faith vision for the restoration of the Church and our modern culture, and sows seeds of a new Christian civilization. Cath­erine's faith was greatly challenged in her life experiences. Her example of radical Gospel living became a magnet for men and women in search of a way to live their faith. She serves as a sure guide in the life of faith.
"Faith brings into our lives such freedom, such love, such peace, and such joy that there are no words that can explain it. You have to experience it in order to understand it. Faith liberates. It liberates love and hope. If I am free to love and free to hope, what more do I want of life?" — Catherine Doherty
About the author Catherine Doherty
92 pages — Trade Paperback, 7″ x 4.25″ — Madonna House Publications, 2012 — ISBN 978-1-897145-34-0
EPUB and Mobipocket formats. (Please note — after payment, you will receive an e-mail with a download link for a .zip file containing the eBook in two standard formats: an .epub file and a .mobi file. We are unable to offer technical support for the use of eBooks, so please be sure you know how to install and use the files on your eBook reader before purchasing.) DRM-free.
Read more...
---
We Also Recommend
---