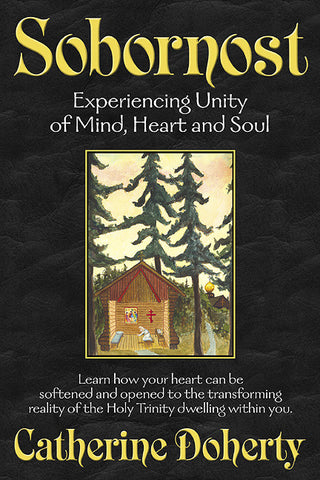 Sobornost: Experiencing Unity of Mind, Heart and Soul
Discover how your heart can be softened and opened to the transforming reality of the Holy Trinity dwelling within you, in our modern age of loneliness, alienation, and fragmentation.
 Available as AudioBook
Get the set of all six "Madonna House Classics" books at a special price!
Discover how your heart can be softened and opened to the transforming reality of the Holy Trinity dwelling within you.
In Sobornost, the Russian word for "unity," Catherine leads her readers on the journey of a lifetime.
She guides us along the pathway that takes us home to God's house, into the graced intimacy of eternal belonging. Here we rediscover the final unity that flows from Divine Persons, one in love—Father, Son, and Spirit. Here Catherine holds the lost key, the forgotten path, the secret to the most profound of all worlds—to a new civilization of love.
Sobornost enters our hearts through the grace of the Trinity. This unity transcends our emotions, our ideas, our identities and opens immense horizons. It is a mystery to be understood more with the heart than with the mind. Catherine shares her own experience of it in a way that rings true and brings readers to the heart of the mystery. She writes in a simple, conversational tone, from a heart full of immense love for God and neighbor.
Around the theme of spiritual unity Catherine weaves various threads of Christian spirituality: the primacy and meaning of Baptism, Eucharist, service to others in love, and contemplation.
Attaining sobornost is vital in this technological age with its loneliness, alienation, and fragmentation.
For all who thirst for unity between creature and creator and each other.
Every nation and every individual needs to work towards sobornost to heal the fragmentation of life!
Reviews
"Spiritual reading at its finest… a book superb in content, pleasing in format… It is a very satisfying experience to read any of the Baroness' books and this is her best." — Our Sunday Visitor
"There are not so much ideas presented as 'sparks' that fly from the pages, igniting a response in the heart." — Father George A. Maloney SJ
"Expresses an extraordinary range of value and experience… Catherine Doherty's own lived experience of sobornost permeates throughout and endows the whole with such a ring of truth that the reader cannot help but encounter at least the choice to penetrate more deeply into the mystery at hand." — The Providence Visitor
"Mrs. Doherty in inspired and often moving language has offered an insight into the subtle and elusive concept of sobornost. She has given us a book well worth reading and contemplating." — Edmund R. Padvaiskas MA, Professor of History, Siena College
About the author Catherine Doherty
118 pages — Trade Paperback, 5.5″ x 8.25″ — 2nd ed., Madonna House Publications, 2000 — ISBN 978-0-921440-25-3 — 
Also available in French

 

(with

 

Strannik).
EPUB and Mobipocket formats. (Please note — after payment, you will receive an e-mail with a download link for a .zip file containing the eBook in two standard formats: an .epub file and a .mobi file. We are unable to offer technical support for the use of eBooks, so please be sure you know how to install and use the files on your eBook reader before purchasing.) DRM-free.
Read more...
---
We Also Recommend
---