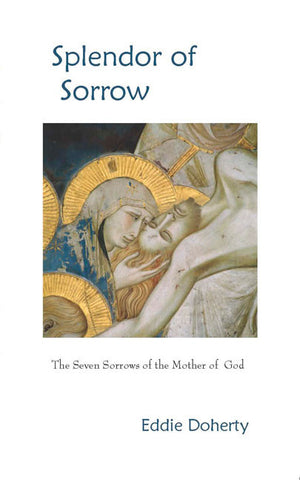 Splendor of Sorrow: The Seven Sorrows of the Mother of God
Saints accompany "the Blindman" through the events of Christ's life and death, teaching, consoling, and giving him—and us—eyes to see the splendor of love and sorrow that shines forth from them.
Deeply felt, mesmerizing, and powerful, this cinematic book will change forever how you regard the mysteries of suffering and grace.
In Splendor of Sorrow, Eddie Doherty styles himself the "Blindman," who realizes that without help he cannot understand the significance of important happenings in our Christian heritage. He calls upon his friends, the saints, to lead him back through time, and help him to "see."
Eddie brings saints and angels from throughout history into the story, relying on their insight to illuminate the mysteries taking place before them. With St. Francis, St. Martin, St. Michael, St. Thérèse, St. Anthony—and a host of angels and saints—the author collapses time and space to make us witnesses of key events in the life of Our Lord and Our Lady, which Catholic tradition refers to as the "seven sorrows" of Mary. We "see" each sorrow and joy through the eyes of the Blindman.
Through a life of spectacular adventure and searing tragedy, Eddie Doherty came to see in the Seven Sorrows of the Mother of God how God's light shines even in the sufferings of this world. In these pages, he takes you into those Sorrows, showing you how to find the mystery of divine joy within.
Reviews
"Few books get into our lives. At best, for the most part, they get into our libraries. And now comes Eddie Doherty with a book that has Life, the fragrance of Truth, the warmth of the Trinity. He comes unobtrusively, never gets in the way, like incense before God's altars, like everything holy. He comes with the Splendor of Sorrow. The book will be acclaimed for sheer literary genius by those who read much… it will, page by page, find shelter with Christ in the obscure chambers of their hearts and souls, as it opens up depths so far known only by God." — Fr. Daniel M. Cantwell
"Doherty paints a pure and tender portrait of the woman who bore the Son of God, inspiring readers' hearts and spirits." — Therese J. Borchard, coeditor, I Like Being Catholic
"My friend, I am that Blindman… and so are you! At this late date in your soul's life, it's time for you to pick up this book and let it give you eyes to see. Let the Blindman awaken in you new gratitude for Jesus, Mary and the saints, who were energized so mightily by love of Him. Let the miracle of light that illuminates the Blindman reach into the darkest corners of your soul—and watch with him for the resurrection in your heart." — John L. Barger, Sophia Institute
About the author Eddie Doherty
122 pages — Trade Paperback, 5.5″ x 8.25″—  New edition, Madonna House Publications, 2010 — ISBN 978-0-921440-20-8
EPUB and Mobipocket formats. (Please note — after payment, you will receive an e-mail with a download link for a .zip file containing the eBook in two standard formats: an .epub file and a .mobi file. We are unable to offer technical support for the use of eBooks, so please be sure you know how to install and use the files on your eBook reader before purchasing.) DRM-free.
Read more...
---
We Also Recommend
---