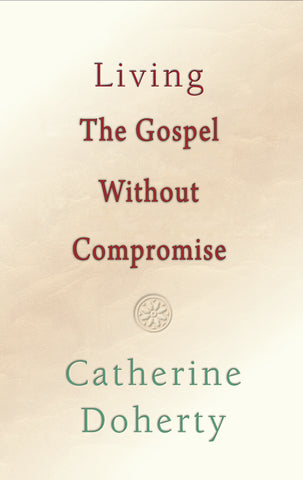 Living The Gospel Without Compromise
In this hard-hitting book, Catherine Doherty turns the insecurity and fear of the modern world on its head, showing you how cultivating "holy insecurity" could be your most reliable path to peace.
"God calls each one of us who calls himself a Christian. He calls us directly. There is no compromise in his call: 'Whoever is not with me is against me…. If you love me, keep my commandments.'
"His call is revolutionary, there is no denying it. If we Christians implemented it, we would change the world in a few months…"
Every day, the newspapers show again and again that cracks are forming in our modern economic, political, and technological superstructures. Terror, despair, and fear are on the rise—and the media and political elites are at a loss for solutions that will bring lasting peace and healing to the world.
In this hard-hitting book, Catherine Doherty brings unique wisdom and clarity to the dilemmas and anxieties of the modern world. She turns the insecurity and fear of the world on its head, showing you how cultivating "holy insecurity" could be your most reliable path to genuine peace. She writes movingly about numerous matters that today's secular society ridicules and caricatures: sacrifice, renewal, community, stewardship, and more. She explains how you can learn to overcome your fear and live with danger, all with joyful (but never naïve or unrealistic) faith and hope in Christ.
A Russian baroness who gave up everything to serve the poor of North America, Catherine has unusual and striking insight into the stark realities of the life of faith for everyone from the seemingly comfortable rich to those who live in the most grinding poverty. The answers are startlingly simple, but rich with the supernatural wisdom of the Gospel—and rooted in Catherine's conviction that we must change ourselves before we can realistically expect to change the world.
Built on the solid foundation of her classic best-selling book, The Gospel Without Compromise, this newly revised and expanded edition offers concrete help to make the unequivocal decision to live the gospel—without compromise!—in your daily life in the modern world.
Reviews
"Every bit as challenging as its title…. In a simple yet profound style, powerfully written from the heart, she develops key gospel themes…. This work is mandatory reading for anyone who is attempting to live the values of Jesus Christ today." — Steve Coffey, Book Nook
"There is no watering down of the gospel's revolutionary message. An almost terrible urgency characterizes this book: the time is now to choose between the death to self, the opening of out hearts to Christ's life and to people, and the death of our souls from loneliness, fear and the 'deifications of man.'… in her vigorous and incisive expression of these truths of the gospel, they take on new meanings, greater clarity and depth…. It is the author's singular ability to make one confront oneself…that gives the book its power." — Maureen Gorman, St. Anthony Messenger
"An excellent book to pick up and read a few pages at a time. Each chapter… suggests some matter for spiritual reflection…. Everyone striving to live a truly Christian life will benefit from The Gospel Without Compromise." — Father Daniel A. Hurley, O.F.M., M.A., The Cord
"Like everything from her pen, this latest book by Catherine Doherty is touchingly simple, straight from the heart, and very wise…. Her years of total dedication to the people of God, the crosses she has carried, and the tremendous graces she has received all leave their mark on what she writes, adding new depths now to the perception which has always been hers…. a present-day prophet whose commission is validated by a long life spent in 'living the Gospel without compromise.'" — Sister Marie Emmanuel S.C., Sisters Today
"This is a very down-to-earth and straightforward book that leaves us little place to hide in rationalizations or excuses. It is also a very good book to help us honestly look at our lives and how we are following the Gospel. I highly recommend it for all Christians." — Sharon Martorana, Charism Canada
"The Christian message is applied unsparingly to service on the contemporary social scene which makes it challenging and motivating reading." — Today's Parish
About the author Catherine Doherty
160 pages — Trade Paperback, 5.5″ x 8.25″ — New ed., Madonna House Publications, 2020 — ISBN 978-0-921440-86-4 — Also available in French. For Chinese, Korean, or Spanish order by telephone: 1-613-756-3728
EPUB and Mobipocket formats. (Please note — after payment, you will receive an e-mail with a download link for a .zip file containing the eBook in two standard formats: an .epub file and a .mobi file. We are unable to offer technical support for the use of eBooks, so please be sure you know how to install and use the files on your eBook reader before purchasing.) DRM-free.
Read more...
---
We Also Recommend
---