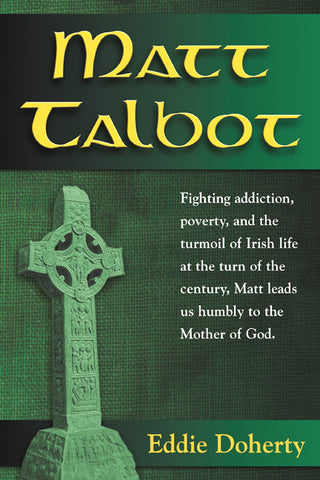 Matt Talbot
Fighting alcoholism, poverty, and the turmoil of Irish life at the turn of the century, Matt Talbot humbly leads us to the Mother of God. He may someday soon be declared one of Ireland's greatest saints.
The life of Matt Talbot
"On a pitiful dry day, in the city of Dublin, Ireland, in the year 1884, a seedy young workman with a hang-over decided to quit drinking…There was nothing remarkable about Matt—not then. And there was nothing remarkable in his taking the pledge. Nothing is easier to take—nor harder to keep. But, one thing leading to another, a sinner can call on a priest, and a sot can become a saint.

"It was only after Matt quit drinking that he became remarkable in any way. It was only after his death that he became, not only remarkable and famous all over the world, but even an object of veneration.

"Some day, in your parish church, you may see a strange statue—maybe standing near that of the Little Flower or St. Anthony or even St. Patrick himself. And then again maybe you won't. The Church hasn't canonized Matt yet, and may never do so. But it permits him to be called "the holy servant of God"; and that is tantamount to calling him the 'Venerable Matt Talbot.'"

– Excerpt from the beginning of Matt Talbot
Though Matt Talbot's life is an encouraging success story particularly for addicts, his meaning in the modern world extends far beyond being the patron of recovering alcoholics. There is something in his story for everyone—worker, sinner, Christian, skeptic, apostle—a glimmer of greatness, humility, and charity that cannot fail to inspire and amaze.
Reviews
"With the few known facts available regarding Matt Talbot's life, Eddie Doherty, experienced newspaperman and author, weaves an inspiring and dramatic account of the incidents which produced Matt's great transformation…. This book, like all of Eddie Doherty's books, is alive with facts and people. The usual Doherty touch is present—punchy sentences and journalistic style." — Alice M. Nicholson, Books on Trial
About the author Eddie Doherty
240 pages — Trade Paperback, 5.5″ x 8.25″ — 2nd ed., Madonna House Publications, 2001 — ISBN 978-0-921440-67-3
EPUB and Mobipocket formats. (Please note — after payment, you will receive an e-mail with a download link for a .zip file containing the eBook in two standard formats: an .epub file and a .mobi file. We are unable to offer technical support for the use of eBooks, so please be sure you know how to install and use the files on your eBook reader before purchasing.) DRM-free.
Read more...
---
We Also Recommend
---