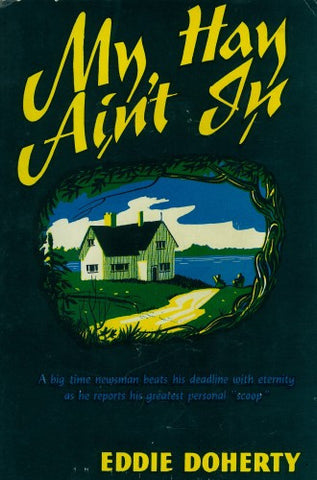 My Hay Ain't In
A self-exiled big-city newspaperman here reports on his exciting life in a country where "nothing ever happens" in this firsthand account of God in the Canadian back bush.
An Apostolate to the Poor
An ace reporter for more than forty years, Eddie Doherty led an extraordinary life, traveling over the world, covering crime, floods, disasters of all kinds, getting the news wherever it might be. Then he was forever hurrying to catch a boat, a train, a plane. Excitement was a tonic for him. He knew all the aristocracy of Hollywood and all the 'czaristocracy' of prohibition.
At the time of writing this (1952) he was living a life uninterrupted by deadlines—a life he calls more exciting than that spent in Chicago or New York, Paris or Helsinki, or any other big city you might name. It is in the atmosphere of this new life in an outpost settlement house, Madonna House (at that time still known as one of the Friendship Houses founded by his wife, the former Baroness Catherine de Hueck, a dynamic proponent of social justice) that he writes.
But the stories reflect a background that had taken him to such dramas as that of the mystic street sweeper of Chicago, the young Catholic actors dramatizing the encyclicals on the streets of Paris, or the "voluntary victim" who called up to hear a joke when his pain became unbearable. These dramas from everyday life, which gained a greater significance for the author in his new life, are coupled with picturesque accounts of Madonna House.
Against the natural beauty of the country he tells of the people who come from offices, universities, factories to find both the fullness of their Faith and ways to live it out in service to those in need.
Moreover, he captures the spirit of this 'apostolate to the poor'—of this nascent community of young Catholic men and women led by his wife, in this new "school for saints"—of multiform services to those who came to them for food, clothing, medicine, or a renewal of hope.
The typical Doherty human-interest style which placed him in the ranks of all-time great reporters is present as he tells of the beauty and peace of God that he missed in the capitols of the world, only to find it in a life with God on the Canadian frontier.
About the author Eddie Doherty
308 pages. EPUB and Mobipocket formats. (Please note — after payment, you will receive an e-mail with a download link for a .zip file containing the eBook in two standard formats: an .epub file and a .mobi file. We are unable to offer technical support for the use of eBooks, so please be sure you know how to install and use the files on your eBook reader before purchasing.) DRM-free.
Read more...
---
We Also Recommend
---