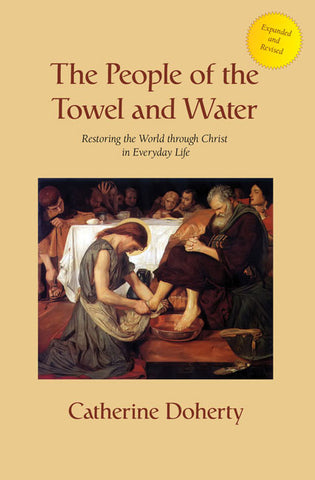 The People of the Towel and Water
Restoring the World through Christ in Everyday Life
Catherine Doherty burned with love for God. In every word she spoke or wrote, she tried to quicken that love in the hearts of others.
In this revised and expanded edition of a Madonna House classic, we begin with the basics of our faith as Catherine communicated them — the Incarnation, the Mystical Body, the Eucharist, Our Lady, etc. — the School of Love.
As she often proclaimed, "No part of the Gospel is abstract."  In other words, without living our faith, putting flesh on the Gospel in daily life, those truths of faith lie fallow. With her unique charism of communicating how to "preach the Gospel with your life" she presents the Tools of Love, the ways to let the light of Christ shine through everyday life.
Let her exhilarating words, her fire of love, light a flame in your heart and soul!
About the author Catherine Doherty
197 pages — 5.5" x 8.25" — Trade Paperback — New Rev. Ed., Madonna House Publications, 2010 — ISBN 978-1-897145-10-4
EPUB and Mobipocket formats. (Please note — after payment, you will receive an e-mail with a download link for a .zip file containing the eBook in two standard formats: an .epub file and a .mobi file. We are unable to offer technical support for the use of eBooks, so please be sure you know how to install and use the files on your eBook reader before purchasing.) DRM-free.
Read more...
---
We Also Recommend
---