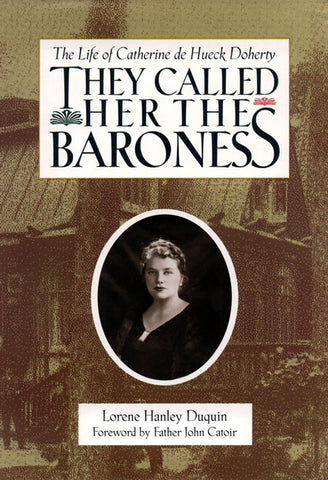 They Called Her The Baroness: The Life of Catherine de Hueck Doherty
A wonderfully absorbing, professionally researched biography of Catherine Doherty which is most of all a grippingly readable tale. An adventurous love story of one soul's journey into God.
The first professionally researched biography of Catherine Doherty
Born at the turn of the century into the wealth and luxury of Russian nobility, condemned to death during the Bolshevik Revolution, an immigrant to North America, friend of the rich and famous, victim of an unhappy marriage and divorce, foundress of the Friendship Houses in America and the Madonna Houses throughought the world given to serving the poor, a pioneer in the Civil Rights Movement and a woman passionately in love with God, Catherine de Hueck Doherty remains an enigma years after her death. Considered a saint by some (her cause for canonization is under consideration) and a charlatan by others, hers is an undeniably extraordinary story.
Catherine believed that the only hope for the salvation of the world was love, the kind of love that would stamp out pride, greed and selfishness, a love that would heal and restore emotionally battered people. Her life knew this need.
At the start of the Great Depression, her 'arranged' marriage ended after years of emotional abuse. Searching for deeper meaning, she moved into the slums of Toronto to work for the poor. A cleric sabotaged the effort. Her only child rebelled and ran away from home. She hovered on the brink of suicide, but found the courage to start again and became a forerunner of the Civil Rights Movement in the 1940′s.
Catherine served as a freelance journalist in Europe during the Spanish Civil War and at the start of World War II. In 1943, she married a celebrated Chicago newspaper columnist. When her friends and followers rejected her vision of the future, she moved to the back woods of Canada and started the first Madonna House. They are now found on five continents.
A powerful lecturer and award winning author, her more than 30 books blend a profound spirituality of the East and West. When two russion icons were installed in the Madonna House Chapel in Combermere, Catherine exclaimed: "Perhaps [God] wanted a humble little bridge between the Latin and Eastern rites. For…here were the Lord, Christ of Russia, and [his mother] coming into our chapel… dedicated to the reunion of East and West…bringing by their very presence…unity based on love, prayer, and an understanding of one another." Her whole life echoed this.
Reviews
"A book well worth reading, but be aware: once you start it you will be glued to its pages until you finish." — Reta Lienhardt, The Bread of Life
"In every century there are a few individuals whose lives boggle the imagination. Catherine de Hueck Doherty was such a person. Her life is now carefully recorded with professional objectivity. I'm sure you'll find that she led an extraordinary life, one filled with miracles of grace and love. I hope you enjoy this book as much as I did." — Father John Catoir
 About the author Lorene Hanley Duquin
334 pages — Trade Paperback, 5.5″ x 8.25″ — Alba House, 1995 — ISBN 978-0-818908-27-0 Also available in French.
Read more...
---
We Also Recommend
---